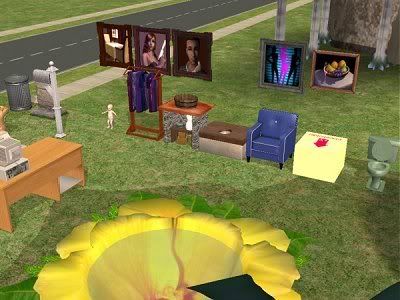 There are many hacks that will make photographing and direction a lot easier. I use a lot of them. In some cases, the use of a boolprop cheat makes the hack redundant, but I've found I prefer the hack in some cases. However, I will cover the use of those that I'm aware of, so that people who'd rather not install custom content or hacks can still use some of the advantages.
However, first of all, I will cover the in-game cheats that are extremely helpful for direction, as well as photography. For ease of writing, I will just throw all of them together, and you can refer back to them when you're reading the photography section.
Note: I have all of the Expansion Packs to Pets, and Glamour Life and Family Fun stuff packs, so I haven't included any cheats that may have come with Seasons or Celebrations at this time. I have also just included cheats useful for photography and storytelling, not for building. So, this is not an exhaustive cheat list. As per the comments section, I have now listed which cheat came with each EP, so far as I know.
Feel free to make further suggestions in the
comments
section if I've missed any.
Options
The first game tool available within the game is "Free Will" within the individual lot options screen. I turn it off. End of actor problems.
You can also turn off the events camera so you can photograph first kisses, dates, abductions, woo-hoos, etc.
Back
Next
- In-Game Cheats
Comment
on this tutorial
Story Links
Home